We have a lot to be proud of here. And while the strength of our program certainly shows in our college admissions, to us the true measure of a student's success is much more than that. It's sustainable and lasting change in the form of accountability and self-advocacy; curiosity about the world and people in it; inspired action; positive connections; and through everything, a desire to discover and be your best self. These are the outcomes we're after, and this is what makes us McLean.
Janan Shouhayib '12 – Passionate about learning, then and now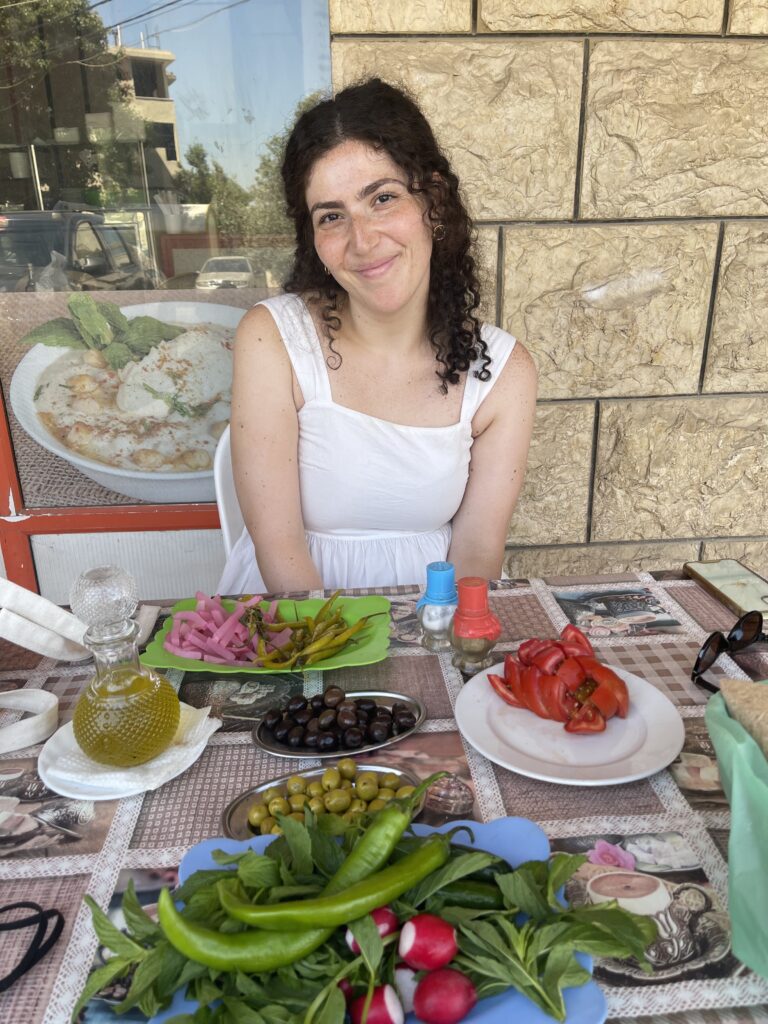 "Everyone at McLean cares about what they're teaching, and it makes you care about what you're learning,"
—Janan Shouhayib '12
Fifth-year doctoral candidate in Critical Social/Personality Psychology at The Graduate Center, City University of New York
Read Bio

As a fifth-year doctoral candidate in Critical Social/Personality Psychology at The Graduate Center, City University of New York, Janan Shouhayib '12 studies the historical, cultural, and political contexts of personhood, seeing individuals more fully and from a variety of angles. Upon reflection, she notes it's not unlike the model of teaching that attracted her to McLean School in
grade 9.
"McLean's appreciation for each individual student and flexible way of teaching inspired me, even in areas like math and physics that weren't my strong suits," says Janan. "I stopped worrying so much about things like grades and just embraced the learning. It was a completely different experience and environment than at my previous school, where I wasn't as comfortable or confident."
Janan was already somewhat familiar with McLean: her older brother Nabil '10 started at the school in Grade 6. She remembers him talking about how much he loved his teachers, and quickly came to understand why. "Everyone at McLean cares about what they're teaching, and it makes you care about what you're learning," Janan says.
She remembers Mr. Belliveau doing handstands to demonstrate inverted fractions; Mr. Dunn's class walks while teaching history; Mr. Booth's creative writing class, where students were able to be vulnerable and very much themselves. The class Valedictorian, Janan spoke at graduation, thanking teachers for their commitment and caring. "I think about those teachers all the time, and what a happy environment they create for students," she says. "I know I had an appreciation for it back then, but now I realize it is truly something to cherish."
Janan went on to Connecticut College, where she majored in Psychology. "My studies were very clinical, but what I really wanted to learn were the stories," she says. In her junior year, Janan started working alongside a professor doing research on cultural identity. "I loved that, because I was putting people into context. That's the work that ultimately led me to graduate school."
After earning a Master of Arts in 2021 and Master of Philosophy in 2022, Janan is writing her PhD dissertation on mother-daughter relationships in the Lebanese American diaspora. "My research has always been super personal," says Janan. She credits McLean with kindling her love for humanities, which continues to be a strong influence today. "When I'm conducting qualitative interviews with people, I always pay close attention to the words they say, almost like literature or poetry."
When she's not busy with school or her work as a Program Coordinator for a mentorship program based at City College of New York, Janan enjoys taking long walks around her Upper West Side neighborhood, journaling, and spending time with friends and family, including traveling to see loved ones in the DC area and Lebanon. And she's a longtime collector of maps—"I guess you could say it ties into my interest in how people relate to their environment. I just love looking at them!"
Janan's career aspirations are varied—she thinks about becoming a therapist or maybe a teacher—but one thing is certain: "Whatever I decide to do, I know it will involve having meaningful, close connections with people," she says. "And McLean was absolutely where I first understood and appreciated how valuable those relationships can be."
Harris Bergman '09– Sustainability Consultant, Environment Advocate, and McLean trustee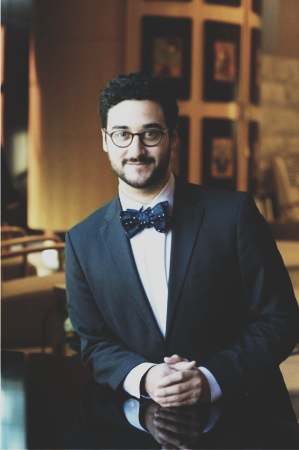 "It was pretty easy to fit in and all the teachers were very welcoming. Because of the small classes, teachers could always provide extra help where it was needed or challenge you if you forged ahead."
—Harris Bergman '09
Master's degree in sustainability management at American University's Kogod School of Business
Read Bio

Harris Bergman learned to advocate and think big at a young age. As a fourth grader at McLean, he and his friends started a classroom energy-saving campaign that earned them an apt nickname: "the light squad." Today, at 27, he continues to apply the creativity and confidence he gained from those early experiences as he helps his clients at socially conscious organizations brainstorm ways to maximize their impact. "The teachers could have dismissed or ignored our idea but they embraced it," Harris recalls. "Even at that young age, the school encouraged advocacy and independence."
One of three brothers to attend McLean, Harris transferred in third grade from a local public school where he had felt lost and unsupported in large classrooms. Diagnosed with ADHD and executive functioning disorder, he found McLean a far better match for his needs. "It was pretty easy to fit in and all the teachers were very welcoming. Because of the small classes, teachers could always provide extra help where it was needed or challenge you if you forged ahead."
The biggest revelation, though, was how McLean approached students' learning challenges-its unique Abilities Model™. With teachers trained to recognize and teach to each individual's special strengths, Harris felt the freedom to be himself in the classroom. "For example, I was allowed to quietly stand during math class if I couldn't sit still any longer and no-one paid any attention to it. They taught us that what others would call a learning disability doesn't have to be a barrier to success if you reframe it and use it as a strength, which is something I still do today."
For Harris, finding his strengths included starring in the school's rich arts program as a talented singer, actor and dancer. He also built close relationships with science teachers, a subject he excelled in. And when he asked for flexibility to meet his needs, the school responded. "After a tough first semester of junior year I asked to lighten my course load a bit. They let me help teach the lower school science class, and gave me course credit for it. I also got independent study credits for volunteering at the Bethesda-Chevy Chase Rescue Squad during the school day. I wasn't forced to pursue only traditional academics in high school, which has made a difference in the way I approach the world and my work."
Harris took what he learned at school about his strengths as an ideas person and a communicator into his college life and career. At the University of Tampa in Florida, he pursued a business major and philosophy minor. He then joined a start-up focused on infection control, before moving to his father's business in a similar field. In 2017, driven by a passion for the environment that dates back to the "light squad", he switched career tracks and took a Master's degree in sustainability management at American University's Kogod School of Business. Since 2017, he has worked for a DC-based sustainability consultancy, The Collective Good. Now responsible for client engagements, marketing, social media and communications as well as supporting the company's operations and business development, Harris has found a perfect fit for his passion and skillset.
"We work with a network of consultants and a wide variety of social and environmental clients looking to improve their impact, so it's very collaborative and strategic. McLean fostered my 30,000-foot view of life and my curiosity, where other schools would have tried to stifle it  and told me to sit down and shut up. Being in a boutique consultancy allows me the same kind of freedom to be myself and operate in the way that's best for me.
Looking back, Harris sees McLean as a safe harbor that prepared not only himself but his younger brothers Parker '12 and Shafer '22 to embark confidently, and with resilience, into adolescence and adulthood. "It helped my parents enormously, knowing they had a partner in the school. It was not a transactional experience; it was a continuum of care that provided what each brother needed, which was different in every case. Wherever Harris's advocacy and big ideas take him next, one thing is for certain: he will be following a path and a passion that began back in fourth grade. As a new member of the School's Board of Trustees, Harris will help McLean continue to deliver exceptional education to the next generation of gifted students.
Faiza El-Hibri '08 – Documentarian, athlete, and go-getter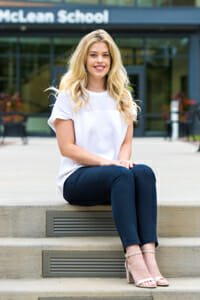 "I attribute so much of my professional confidence to the school where I learned to embrace who I am. Thanks to McLean, I took on the unfamiliar and the unknown – and I'll continue to do so."
–Faiza El-Hibri '08
Director of Operations Management, East West Resources Corp.
MBA, American University
BA, Film, UNC-Wilmington
Read Bio

Faiza El-Hibri's '08 resume is impressive and eclectic. A decade out of high school, her career ranges from helping produce high profile TV dramas such as Sleepy Hollow, to supporting the Greater Washington Board of Trade's bid for Amazon HQ2, and managing sales conversions at Johnson & Johnson. Still only 29, she credits McLean with giving her the confidence and openness to take on the unfamiliar.
"If I had to sum up my experience at McLean I would describe it as boundless," she says. "The school is an incubator—helping students embrace creativity and capitalize on their strengths and differences to develop into confident, capable, and determined people."
When Faiza arrived at McLean as a nine-year-old, she was far from confident. As a young girl, she struggled in public school and wasn't able to match the learning pace of her classmates. "I had word retrieval issues which made it difficult to articulate my thoughts. I was tested for learning disabilities, but test after test, I wasn't diagnosed with anything – it was very frustrating."
After transferring to McLean, which her older brother and sister had attended, Faiza quickly benefited from the small class sizes and child-centered, Abilities Model ® approach to learning. "The small class sizes encouraged me to participate in class and made me more comfortable hearing my own voice. I discovered that I am a kinesthetic learner and the issues I had with word retrieval just went away."
As her confidence grew, Faiza spread her wings. Over her nine years at McLean she opted to study Latin, American Sign Language and creative writing, sang in school musicals, played soccer, basketball, and lacrosse, captaining all three teams, and sat on the student council. "The confidence and openness to try different things has been instilled in me since 4th grade, by teachers who treated us like equals," she says. "While students at many schools tend to narrow down their choices by focusing on sports, or the arts, or academics, McLean encouraged us to do them all."
Since she left school, this expansive approach to life has served Faiza well. After studying film at the University of North Carolina at Wilmington she landed her dream job in commercial TV production. She later took these skills to the non-profit world, joining Unity Productions Foundation in Silver Spring, which promotes peace and religious and cultural pluralism through media. While there, she oversaw production for an Emmy-nominated historical docu-drama, but also discovered an affinity for the business side of non-profit management.
Her next step was to enroll in an MBA at American University, where she was handpicked to work on several high profile consultancies, including the Greater Washington Board of Trade's Amazon HQ2 bid. "We had to produce competitive intelligence on competing cities and present our findings to stakeholders, including the directors of the region's major airports," she explains. "It was pretty challenging and exciting."
At every step along the way, Faiza says, her experience at McLean prepared her to succeed. "The school teaches you that there are no limitations on what you can do, and does an excellent job at helping you understand who you are. For me, that support has meant that when I walk into a new job or city or college, I feel prepared to succeed."
Today, after a brief stint at a medical device subsidiary of Johnson & Johnson in Philadelphia, Faiza works for East West Resources Corporation in Rockville. As Director of Operations Management, she has a pivotal role at the life sciences-focused investment and business development firm.
For now, she is settled there, although there is no doubt she will take on new challenges and responsibilities—including joining McLean School's Board of Trustees. "I am ecstatic to be able to give back," she says. "Thanks to McLean, I took on the unfamiliar and unknown and will continue to do so. I attribute so much of my professional confidence to the school where I learned how to embrace who I am."
Jordan Wilmot '15 – Connection, Confidence, and Cooking: A Recipe for Success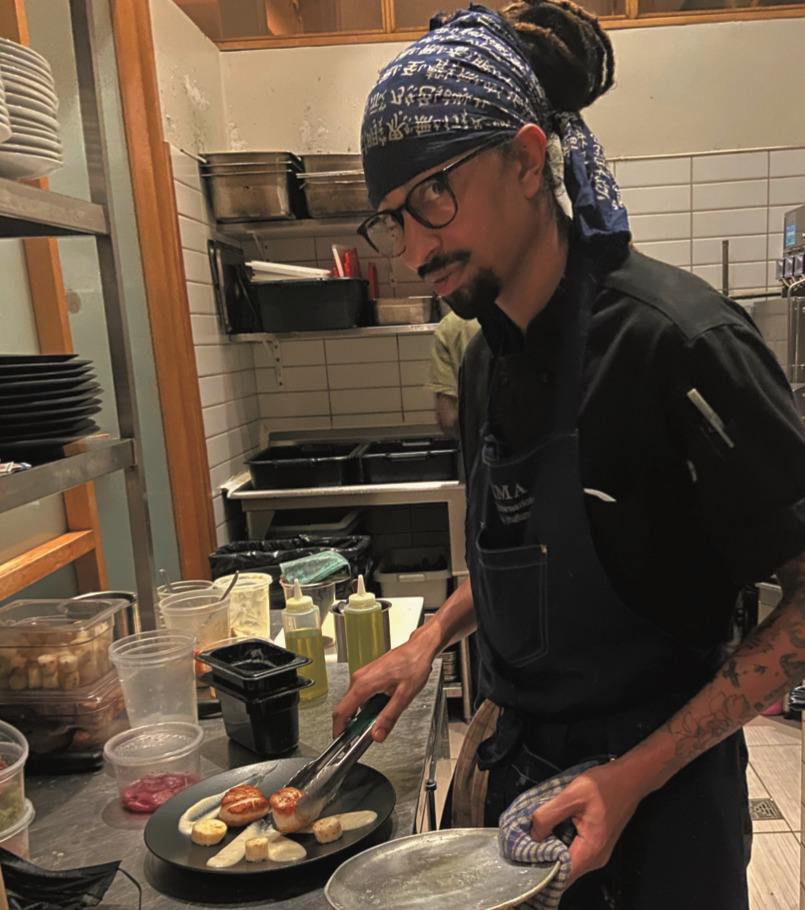 "The school does a great job helping facilitate people's interests whether you're the best at it or not. If you like to act, do it. If you like to play sports, do that. You're a happier person when you follow your passions."
—Jordan Wilmot '15
Associate Culinary Arts Degree from ALMA La Scuola Internazionale di Cucina Italiana
Read Bio

Meet him today, and it's hard to believe lack of motivation was ever an issue for Jordan Wilmot '15. He pressed pause on his traditional college experience to attend culinary school in Europe at ALMA La Scuola Internazionale di Cucina Italiana before landing a job as a chef in one of Montreal's finest restaurants. It's a life that demands discipline and dedication, and has him up early six days a week, putting in the time and perfecting his process. All this, and a pandemic side hustle, too: Spiceboyz Mtl, a free homemade meal delivery service he started during lockdown with his best friend and a government grant.
But Jordan will be the first to tell you he wasn't always so driven. "When I arrived at McLean in sixth grade, I was feeling pretty uninspired by school," he says. "But having caring teachers changed everything. It helped me build confidence and become more engaged."
Caring faculty members like Bobby Edwards, "who made sure I knew his door was always open," says Jordan, adding, "people at McLean were patient with me." He remembers a time in Upper School when a book project weighed on him and his English teacher went above and beyond to lighten the load. "I hated reading and would find any excuse to not do it, but she sat with me at the end of every day and read with me. She had kids of her own and things to do, but still she did this for me and I'll always appreciate that."
Much like his self-confidence, Jordan's interest in food was always there but took some time to click. "Food is huge in my family," he says, "and it wasn't until much later that I realized not everyone ate the same way at home that I did. I'd show up with lamb chops and steak and grilled asparagus," he recalls with a smile. "At university, the cafeteria was so bad that I started cooking for myself and others and I liked the positive reinforcement I got from it."
By then he was three years in at Concordia University in the heart of Montreal, studying classics, but realized he needed a change. Along with a friend who'd just graduated, off he went to Italy to follow his dream. "ALMA is in a castle that once belonged to Napoleon's second wife, which is pretty cool," he says. Jordan remembers walking in that first day and seeing everyone looking very professional in their whites: "I thought to myself 'this isn't TV's Chopped, this is the real deal!'"
Over the course of his two-year program, Jordan met a lot of star chefs and got to see fine dining at its finest. "It was very inspiring," he says. "I'd had amazing meals my whole life but never saw behind the scenes and all that goes into that. I fell in love with it."
He likens restaurant culture to the military in terms of its strict codes of discipline, hierarchy, and teamwork. His internship at northern Italy's renowned Ristorante Schöneck was a baptism by fire, with the fast pace of a Michelin Star kitchen and the added burden of a language barrier. But he credits McLean with helping him build the organizational tools–and the confidence and self-advocacy skills–to handle it.
When it comes to his own style of cooking, Jordan's growth mindset serves him well. "I'm still trying to figure it out," he says. "I've studied Italian cuisine, and I also love Japanese cuisine, but Jamaican food is home for me, it's my culture. I'm open to it all."
It's an attitude cultivated during his time at McLean: "The school does a great job helping facilitate people's interests whether you're the best at it or not. If you like to act, do it. If you like to play sports, do that. You're a happier person when you follow your passions."
For Jordan, this includes spending time in nature, sports like soccer and snowboarding, and going out to eat with friends, naturally. "Montreal has everything I would want: good food, good activities, nature and hiking, beautiful things," he says with the confidence that eluded him all those years ago. "It's important to follow your own path because you never know where it might take you."
Kate (Dykstra) Middleton '05 – Small School, Big Impact: A Life-Changing Experience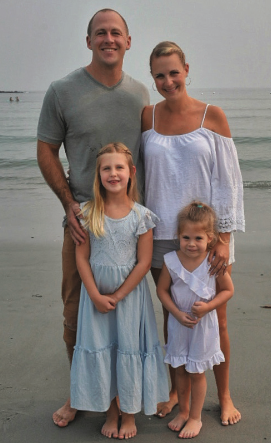 "My years at McLean were truly some of the best of my life … It's such a formative time, and I got to go through it in such a safe, comforting, all-inclusive environment.
—Kate (Dykstra) Middleton '05
Teacher
BA, Studio Art, University of Maryland, College Park
Read Bio

"As dramatic as it sounds, I can honestly say McLean School saved my life," says Kate (Dykstra) Middleton '05, who started at the school in Grade 10. "Middle school and high school years are such hard, emotional, self-growth times. A lot of my friends at public school were getting into some scary things. I saw that happening and knew I needed to make a change."
McLean's focus on students who learn differently didn't matter to Kate, who doesn't have any diagnosed learning disabilities, because the school's best practices serve all kids well, she notes. "I fell in love with the size of it, and the way the kind and caring teachers interact with their students. They really know them personally, and I wanted that for myself, too," says Kate.
Those three years at McLean were even better than she could have imagined: "I have almost no negative memories–most people can't say that about high school!" Kate adds. With only a handful of girls in her small graduating class, the group grew very close. "We did everything together, and the truth is that in any other school we wouldn't necessarily be friends because we were all so different," says Kate.
"At a bigger school, you often get pigeonholed into a specific group or clique, but at McLean you are free to explore all your interests," she says. For Kate, that included sports like hockey and lacrosse–and, she laughs, one basketball game's worth of cheerleading. "I was horrible at sports, but they still let me try!" she says. "There's a lot to be said for just being able to be part of a team, and I never would have had that experience at a bigger public school, with their tryouts and cuts and intense competition."
Seeking the same small, supportive atmosphere and intimacy that drew her to McLean, Kate enrolled at Susquehanna University after graduation. After three semesters, however, she decided she was ready for a bigger environment and transferred to University of Maryland, College Park, where she received a degree in Studio Art.
A series of work experiences followed, including one with TV show "America's Most Wanted," but after a job posting at "a small private school in Potomac" caught her eye, she returned to McLean in 2010 to work in the Learning Commons Library. "It was wonderful being back in that environment again," says Kate, who, in addition to her position as Assistant Librarian, also helped oversee the Yearbook and third grade technology.
When she and husband Scott married in 2012, the wedding was a fun mix of old and new McLean, with former classmates and current colleagues alike. Soon after, the Middletons began talking about where they wanted to put down roots and start a family. "We knew we wanted to live near the ocean in a community that could support his work as a personal trainer and my desire to start an interior design business," she says. A visit to Hilton Head sealed the deal, and in 2013, the two moved to Bluffton, SC; daughter Allie, 7, was born the next year, and Juliette, 3, followed.
Today, she's back working with students, this time as a third-grade classroom teacher, having returned to school for a degree in Elementary Education. "Working in a public system has been very eye-opening," says Kate, who looks to bring her love of teaching to a smaller, independent school setting like the one that changed her life all those years ago. "I'm reminded of how I felt as that young high school student and what I want out of education, for myself and also now for my students," she says.
"My years at McLean were truly some of the best of my life," adds Kate. "It's such a formative time, and I got to go through it in such a safe, comforting, all-inclusive environment.
"I hope the same for my own girls someday," she says.
Zach Levine '16 – From Making Headway to Making Headlines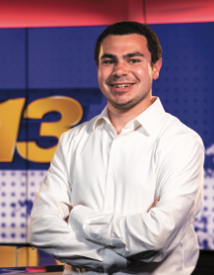 "McLean was a safe place where I was celebrated for literally all of who I was, including the parts of myself I felt shame around."
—Zach Levine '16

Degree in ​Broadcast and Digital Journalism, Syracuse University
Read Bio

As a television news producer, Zach Levine '16 knows a good story when he sees one. His own is pretty compelling, too.
Zach's time at McLean might best be described as the Abilities Model® in action: being seen and celebrated for your strengths while receiving support and skills for learning–and for life. In 7th grade PE class, Zach often would chime in with entertaining real-time commentary and his teacher invited him to announce starting lineups for the Middle School basketball games.
Former science teacher, Cathy Noon, also took note. "She was a big sports fan, too," Zach recalls. "She'd see me at games and invite me to sit at the scorer's table, which helped me evolve my announcing role."
It wasn't long before Zach became "The Voice" for the Upper School basketball games, including play-by-play and highlights. "I didn't even know this was a passion of mine until I started doing it," he says. "I appreciate that people at McLean saw something in me and encouraged, and trusted, me to build on it because they thought it would be good for me and my personal growth."
Zach expanded on his interests and started a McLean sports newsletter that, while short-lived, got him thinking about a career in news. He went on to Syracuse University, where he majored in broadcast journalism. "Syracuse is pretty big, and even though I was coming from a small high school experience, my time at McLean did a good job preparing me to make that jump to a larger environment," he says. "McLean taught me to learn how to learn."
Part of that, he says, included knowing himself well enough to align his abilities and aspirations. "Sports journalism can be cutthroat and those who go into it tend to be very competitive–and that's just not me," he says. "By my second year, I started to notice that news might be a better fit for my personality and that I might actually get more opportunities and experience doing that," Zach says. "I felt more appreciated and liked that I had room to grow, which was certainly something I had at McLean."
Appreciated he was: as an undergrad, Zach interned at a Syracuse news outlet and kept in touch with his boss, who reached out to Zach about a job opportunity at her new station. Just hours before a COVID-19 hiring freeze went into effect, and a few months before his June 2020 graduation, he accepted an offer as a producer for the local ABC affiliate in Colorado Springs, KRDO Newschannel 13.
"It was a huge leap, moving 1,500 miles away," says Zach. "But knowing I had gone from McLean's nurturing environment to a big university helped me understand that I could do it. And it's really paid off."
It was that nurturing environment that first attracted Zach to McLean back in elementary school. "I was struggling with the public school system," he says, "it was increasingly competitive and I was falling behind because I needed more time to learn things and didn't have the confidence or tools I needed."
He started at McLean in grade 5, and although it was a bit of an adjustment, it wasn't long before Zach hit his stride. "I remember feeling a lot of anxiety and negativity, holding myself to social and academic standards," he says. "But soon I started to feel comfortable in my own shoes. The persona I took on as 'The Voice' helped shape my identity and gave me confidence as people began to show an interest in my abilities."
"I'll be honest," he adds, "it took me a year to feel that way at work, too!"
Today, however, Colorado feels like home, and Zach enjoys taking advantage of all it has to offer. "I've developed some new interests since moving here, like skiing and hiking," he says. But much remains the same, including his love for all things news and Washington sports teams.
One thing Zach will always appreciate about McLean, he says, is the School's willingness to support him in pursuing his own path. "Even though my interests didn't necessarily line up with the school's existing clubs and activities, the teachers were always willing to work with me," he says.
"That's part of what makes it such a welcoming place," he adds. "McLean is open to people of all abilities and learning types, but also passions. It sounds cliché, but it's true that they want you to have opportunities you might not otherwise get, to grow and flourish in whatever ways possible."
Chantal Contijosh '08 – Strategy and operations consultant, world traveler , and lover of the environment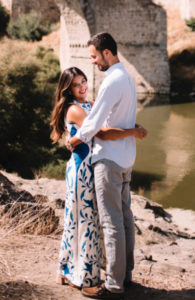 "Teachers pushed me in ways I needed and wanted to be pushed and engaged me in ways that made me a stronger student and helped me reach my goals."
—Chantal Contijosh '08
Strategy and Operations Consultant
MBA, Washington University
BS, Denison University
Read Bio

Chantal Contijoch remembers her first day at McLean. She was in 8th grade, and her family had come to Maryland from Mexico City for the chance to experience a new country and culture. "As my brother and I pulled up to the school, we saw kids spilling out of buses, greeting each other enthusiastically with big smiles on their faces — it felt like we were in an American movie."
The friendly atmosphere and strong sense of community were the main reasons Chantal's parents chose McLean School in the first place. "Here we were, coming to a new place with a new language at an age and time in my life that's already pretty stressful," she recalls, "but at McLean I was able to be myself and appreciate my differences, and people were open and welcoming."
Her family quickly settled in, and what began as a two-year adventure soon became a permanent move. After McLean, Chantal went on to receive a bachelor's degree in biology from Denison University in Ohio. Her interest in sustainability and conservation work led her to California, where she spent a couple years working for a renewable energy company. When a promotion prompted a move to company headquarters in St. Louis, Missouri, Chantal was inspired to pursue the business side of things — and an MBA at Washington University.
Chantal was thriving, but her company was not — so in 2016 she left for a technology consulting firm. "I did a lot of coding and software development but my real interest was in strategy," she says. "One of my mentors, a VP in the company, really believed in me and even though I was fairly new to the company I was given opportunities to lead teams and advance my career."
Much like at McLean, where, she says, "teachers pushed me in ways I needed and wanted to be pushed and engaged me in ways that made me a stronger student and helped me reach my goals."
Today, Chantal is back in Maryland, where she and her husband Francisco recently bought a house. The two love to travel, try new food (and wine that goes with it!), and spend time with family and friends. Since February 2018, she's worked as a strategy and operations consultant for Slalom Consulting, where she's charged with building the sustainability practice and leads the women's leadership network for the DC office — a coming-together of her longtime passions.
"I've always been committed to DEI [diversity, equity and inclusion] and also to doing what's best for the environment," says Chantal, and a big part of her focus is helping companies establish their environmental, social, and governance-related business practices, known as ESG. "I love helping clients answer the question of how can we do business in a way that's sustainable?"
Chantal is quick to draw the parallel between the work she does and the McLean experience: both are tailored to the needs of each business or student, identifying and embracing challenges and strengths to bring out their best.
"Regardless of whether you have a diagnosed learning disability — and I actually do not — McLean is a school that benefits all learners with their individualized learning," says Chantal. "I was so shy when I arrived at McLean, but the small classes and caring teachers really helped me come out of my shell.
"Being part of a supportive community like that, and exposed to different types of people and different types of learning styles, was an amazing experience."
Joyce Gendler '08 – Expressive arts therapist, teacher, and theatre lover
"McLean was a safe place where I was celebrated for literally all of who I was, including the parts of myself I felt shame around."
—Joyce Gendler '08
Social Justice Education Through the Arts Degree from NYU's Gallatin School of Individualized Study
Read Bio

"In a world where you're expected to go from A to B then C, McLean helped me understand that the line between them might be a little squiggly sometimes," says Joyce Gendler. "Lucky for me, I love squiggly lines — they're a lot more interesting."
It's no surprise that Joyce thinks like an artist — for as long as she can remember, the arts have played a huge role in her life. "My mother was an art teacher, and I was always doing plays and other artistic stuff," she says. "It was such an important part of my learning."
Joyce recalls that her teachers not only took an interest in her love of all things theater, but created opportunities for her to integrate it with her studies — like the time she was given permission to write a play instead of a paper. "It helped me realize that if you ask for something and advocate for your needs, most of the time you can make it happen."
After graduating from McLean, Joyce went on to pursue educational theater at New York University, where experiences as a student teacher opened her eyes — and she set her sights in a new direction. "I was quickly becoming aware of how fortunate I had been as a student, and how our public education system doesn't support everyone in it," she says. "I became pretty obsessed with the injustices I saw, and that became more of a focus for me than the theater." Joyce transferred to NYU's Gallatin School of Individualized Study and created her own major, social justice education through the arts, graduating in 2012.
Her first job was teaching a social/ emotional class to high school-age students incarcerated at Riker's Island, the prison where she'd done some work as an undergrad as part of a class. "New York is one of just two states that tries 16 to 18 year olds as adults in the court system," she explains. "Working there, I was seeing them at a time in their lives when so many other interventions had failed them. I was like 'what can we be doing in the schools so that this doesn't happen?'"
Joyce's quest for answers led her to nonprofit work with an organization called The Future Project where she was a Dream Director — "best title ever!" — working in high schools with students and teachers to create a positive school culture. "The idea is that when kids can learn by pursuing things they're excited about, like creating a comic book or recording a song" — or writing a play instead of a paper? — "it shifts the energy of what school can be, and grades and attendance and morale go up." During her time there, Joyce met her now-husband John-Michael and was promoted to lead the team of Dream Directors. In 2017, Joyce left for graduate school at Lesley University in Boston, where she studied clinical mental health counseling and expressive arts therapy.
"The arts had given me a way to understand myself and the world," says Joyce, "and when I realized I could combine education and the arts in this way it was like OMG! That was my story."
Joyce and John-Michael recently bought a house by the water in Connecticut, where she works as an expressive arts therapist at a community agency for adults with chronic mental health issues. "I've always worked with adolescents, and hope to again, but with a different perspective now that I see what life looks like 10 or 20 or 40 years down the road for people who grapple with some of these same things."
As she reflects on her own squiggly-line journey, Joyce is grateful to McLean for helping her to become the person she is today, personally and professionally. "If I hadn't had such a supportive community of people who saw my abilities instead of my disabilities, my life would have been totally different and I've had a glimpse of what that can look like," she says. "McLean was a safe place where I was celebrated for literally all of who I was, including the parts of myself I felt shame around."
"Now, working with people who struggle with their own diagnoses and challenges," she adds, "I see just how much the right support along the way make all the difference."
Brandon Royal '04 – World traveler, musician, and natural born leader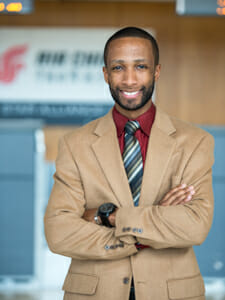 "At McLean, my classmates and teachers instantly made me feel welcome and it made all the difference and opened up doors. I strive to do the same wherever I go."
–Brandon Royal '04
Airport ambassador and translator, Dulles International
MA, International Relations
BA, Asian Studies
Read Bio

Even though it's been a few years since Brandon was a student at McLean School, you might still find him on campus, catching up with his former teachers and staff members or congratulating the newest class of graduates.
"Whenever I go back it's a trip down memory lane and it feels good," Royal said.
No matter how much time passes, Royal will always have a connection to the school that gave him the foundation for lifelong success.
Royal felt at home as soon as he arrived at McLean. His classmates and homeroom advisor instantly made him feel welcome and making friends came easily to him. The close-knit community of faculty, staff, and students was like family to Royal.
Being at a small school "gave everyone the chance to know one another, and with that, you develop better relationships," he said.
One way that Royal formed bonds with his classmates was through jazz band. He played classical music before coming to McLean, but jazz opened Royal up to new perspectives.
"Being in a jazz band taught me about being a part of an important group, being a strong link in a circle," Royal said. "Everybody has an important role that they need to play and with that role you can mold it, you can carve it any way that you want."
Participating in jazz band was also how Royal met one of his closest friends, Daniel Thomas. The musicians hit it off one day when Thomas was playing drums and Royal was playing piano. After the school day ended, they would sometimes go to the music room "and just play the day away," Royal said.
A Head of School Award winner, Royal was a well-liked student who made a big impression on the McLean community. His teachers and friends saw that he was a natural leader and encouraged him to run for student government. Royal was honored.
"It's humbling to know that you have people who think about you in that kind of way," he said.
So Royal put his all into his role as Vice President of the Upper School. During midterm exams
before the holiday break, Royal and the student government set up a snack booth to give students a pick-me-up and a sweet send-off into the new year. He was also involved in fundraisers like bake sales and car washes.
"Everybody had my back, I had to make sure I had everybody else's too," he said.
McLean was also supportive of Royal's passion for world language. Before coming to McLean, Royal had taken classes in Mandarin Chinese and took part in a world exchange program in China. McLean didn't offer Mandarin Chinese, so Royal was provided with a private teacher from outside the school. It's just one example of how "they're always willing to work with the student" at McLean, Royal said.
He continued to follow his passion for Chinese language and culture after graduating from McLean. Royal majored in Asian studies and minored in management at Manhattanville College and went on to pursue a master's degree in TK at Central South University in Changsha, China. Royal completely immersed himself in the culture while abroad, speaking only Chinese and enjoying the Hunan province's famous spicy cuisine.
"It was amazing and unforgettable. Being able to study abroad in any country is an experience of a lifetime," Royal said.
Now Royal uses his world language skills to help others as a TK at Washington Dulles International Airport. He works with the airport management staff to assist with incoming flights and ensure that everything runs according to plan. Whenever a flight from China comes in, Royal is called to help with translation — some frequent flyers even specifically request Royal because they know they will be in good hands.
Royal has had some amazing adventures since his high school graduation. But wherever he goes, Royal always has a home at McLean.
"McLean helped open up a lot of things for me," Royal said. "If I could go back in time to McLean I would."
Heather Alpern '07 – Aerospace engineer, artist, and animal lover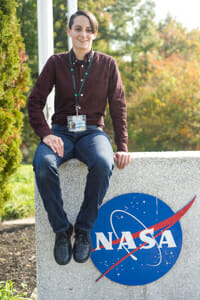 "McLean sculpted me into who I am and helped me see myself as more than just someone with dyslexia. All the opportunities I had gave me freedom to find my passions and opened up a whole new world to me – literally!"
—Heather Alpern '07
NASA aerospace engineer
MA, Aerospace Engineering
BA, Mechanical Engineering
Read Bio

Heather Alpern '07 wears many hats: engineer, artist, and animal shelter volunteer, to name a few. She keeps busy pursuing her master's degree in aerospace engineering at the University of Maryland, College Park, and working as a contractor for the Naval Research Laboratory and NASA Goddard Space Flight Center. When she has a spare moment, she may also be found tinkering with a design project or taking care of rescued dogs.
With all of her accomplishments, Alpern is proud to say that her experiences at McLean School made a lasting impact on her character today.
"McLean definitely sculpted me into who I am," Alpern said.
Alpern arrived at McLean in third grade shy and self-conscious about her dyslexia. But she soon learned that she had nothing to worry about. In her small classes, Alpern received one-on-one support from her teachers and developed close relationships with her peers.
"You feel less lonely in class because you actually connect with your teachers and classmates," she said.
Alpern took advantage of all that McLean had
to offer, especially in art and math. She loved hanging out in the art room, using the facilities
to dabble in all kinds of media. She experimented with a range of studio tools, as well as clay, pastels, colored pencils, and paint. For Alpern, who has been drawing since she "could pick
up that marker" as a little kid, McLean's Art Department provided countless opportunities for her to hone her skills.
Art wasn't Alpern's only talent. She also found that she had an aptitude for all things STEM. So as she did with art, Alpern lapped up every math class available at McLean.
"Math came very easily to me," Alpern said. "It was a puzzle and I really enjoy puzzles and figuring out how things work."
The more that she explored artistic and technical pursuits, the more they overlapped. Alpern discovered a synergy between art and math that would be a constant throughout her education. For her senior project, Alpern designed and assembled a wooden pendulum clock painted with ocean scenery — a culmination of her skills in engineering and art.
"I'm very proud of that," Alpern said. "It combined everything I loved about my classes at McLean."
She continued to merge her passions for both art and STEM at Alfred University, where she majored in mechanical engineering and earned a double minor in art and mathematics. There, Alpern
took classes in computer-aided design alongside drawing and metal sculpture.
Alpern also participated in the robotics club and worked with a group of friends in an independent study to develop a robotics course. As her interest in robotics deepened, Alpern knew that she wanted a career in aerospace engineering.
She got closer to that goal during her senior year of college, when she snagged a coveted internship with NASA at the Marshall Space Flight Center in Huntsville, Alabama. The highlight of her time on the internship program was witnessing the last shuttle launch with human passengers on board.
"Little did I know at that time the projects I would be working on two years later would be on that shuttle launched into space," she said.
Alpern interned for NASA again after graduating from Alfred University at the Ames Research Center in Mountain View, California before moving back to the East Coast to work as a contractor for the Satellite Servicing Capabilities Office at the Goddard Space Flight Center. She worked on a Robotic Refueling Mission, in which she and her team explored ways to refuel and repair satellites while in orbit. It was an experience that Alpern calls "the coolest thing I've ever worked on."
She's still doing impressive work in the aerospace engineering field, designing three instruments that interface with NASA satellites; two will be used
to monitor the Sun and the other will monitor the Earth's atmosphere. Alpern will even be helping develop a new instrument from the beginning of the design process, something she has never done before.
Alpern has already secured her dream job working for NASA, but her possibilities are still wide open.
"There are so many projects within the science field and NASA that once one is finished you can go to another one," she said.
There's no telling where Alpern might go next, but it's bound to be an exciting journey.
Learn more

How We Prepare Our Students