We value community at McLean because we believe it's the foundation of learning success: strong bonds lift us up and allow us to reach our goals, and also hold us in challenging times.
But a thriving community doesn't just build itself — it takes intention, innovation, investment, patience, and a willingness to step outside your comfort zone. Service learning and mindfulness education are two important ways we focus attention on individual and community wellness, and all of our efforts emphasize diversity, respect, and responsibility and engage faculty as well as students and their families to create a culture we can all feel good about.
McLean School's commitment to diversity and equity is an extension of our mission to make education accessible, stimulating, and meaningful to a broad range of learners. We embrace the wealth of experience that differences of ethnicity, race, religion, socioeconomic status, culture, color, sexual orientation, or gender contribute to our community. With an expectation of personal integrity and respect for others, our students acquire the skills and sensibilities necessary for living in a world of change and difference. Our commitment to diversity, equity, and inclusion ensures we put this into practice each and every day.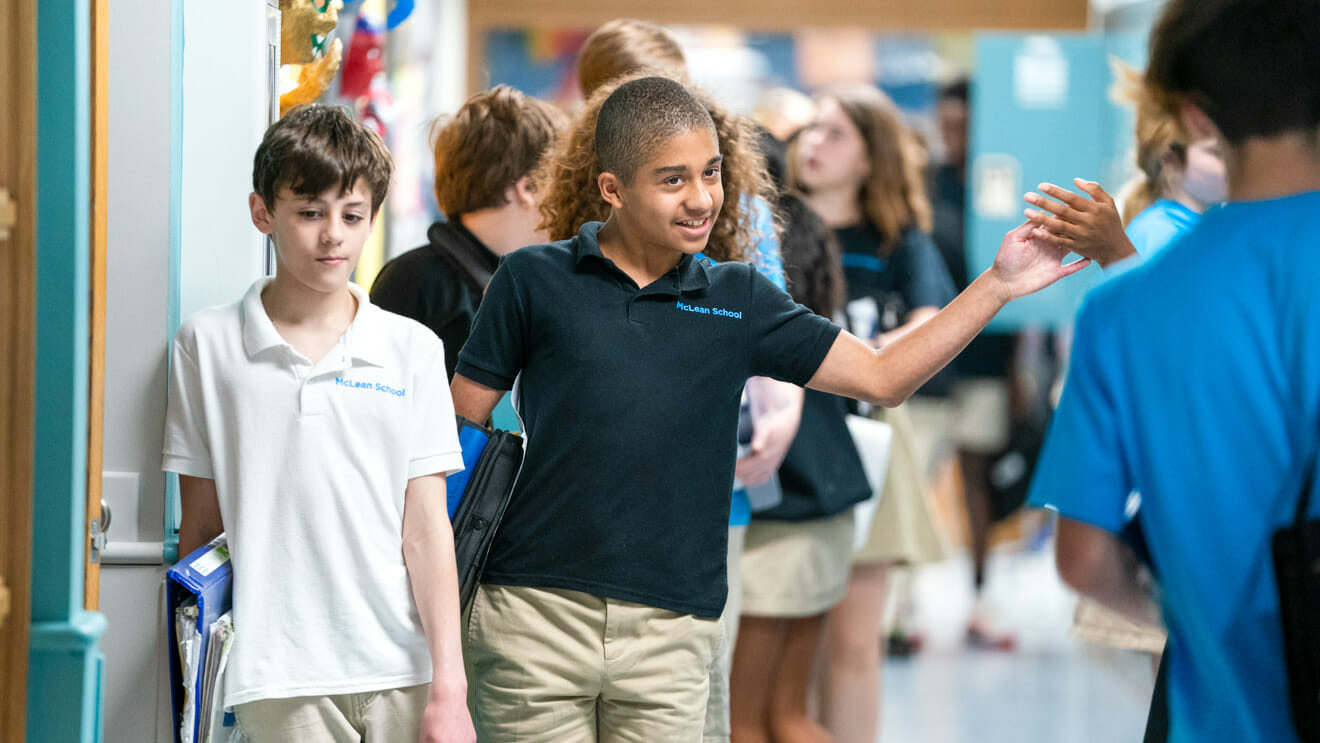 Standards & Integrity

Honor Code
Our community thrives when every member respects the boundaries as set forth in our Honor Code. The Lower School Pledge Program, Be Safe, Be Kind, Be Responsible, lays the groundwork for McLean's culture of caring and mutual respect. The Middle School PRIDE Program (Positive Interaction, Respect/Responsibility, Individual and Community Safety, Decision Making, and Empathy) expands the expectations we have for our code of conduct. The Upper School Honor Code expects students to show respect for the campus and the people who comprise our school by demonstrating honesty, courtesy, and appropriate behavior.
Keeping Pace with Progress

Digital Citizenship
The digital age requires us to understand the many implications for its use. We encourage our community to think critically, behave safely and respectfully, maintain healthy digital relationships, and participate responsibly in the digital sphere. Digital citizenship includes awareness of digital bullying, cyber security, plagiarism, internet addiction, and digital footprint.
Having a Voice

Student Government & Engagement
Student participation in the Climate Committees of Lower and Middle School and Student Government and Honor Committees in the Upper School are essential to our positive culture and community. Each committee is comprised of student representatives, who serve as the voice of the student body, and share concerns, opinions, and recommendations with the administration. Student-led initiatives are an integral part of the student experience.
Supporting the Whole Child

Social Emotional Programming
As educators, we are committed to building a space where students have the expectations, language, and skills to navigate issues related to sense of self, friendship, stress management, and their overall place in our community and greater world. Using Responsive Classroom, the Developmental Designs Advisory Guide (the subsequent program to Responsive Classroom), and the Owning Up curriculum, our homeroom teachers and advisors are the cornerstone to providing age appropriate, targeted, consistent social-emotional learning activities that enhance our ongoing activities and efforts. Counselors are also an integral part of our interdisciplinary support team, available to all students in an ongoing or as needed basis, providing services and coordinating developmentally-appropriate programs to each division.
Faculty & Parents

Resources
As part of creating a positive and meaningful experience for our entire community, McLean provides a variety of resources and programs specifically for the social and emotional well-being of parents and faculty. This includes presentations and workshops by and for members of the community as well as national experts on a variety of topics; mindfulness education and practice through Mindful Mondays; digital citizenship workshops and other trainings; fitness and conditioning classes including yoga. We think of this as a form of self-care — along the lines of putting your own oxygen mask on first!
Awareness & Perspective

Service Learning