Each year, we ask every family to make a personally meaningful gift towards the TRUE BLUE Fund. The TRUE BLUE Fund is McLean's single most important annual fundraising effort and is vital to the ongoing sustainability of our School.

You may be surprised to learn that tuition doesn't actually cover the full cost of educating each student. The cost to provide our Abilities Model® approach to learning, small class sizes, and robust academic and extra-curricular program well exceeds tuition. Like many other area independent schools, McLean relies on the Annual Fund to bridge this gap.
The TRUE BLUE Fund benefits each McLean student every day through:
Maintaining small class sizes led by expert teachers, and providing opportunities for Professional Development throughout the year
Encouraging creativity through rich visual arts and award winning performing arts
Supporting the athletic accomplishments of our championship winning Mustangs
Sustaining robust STEM and Robotics programming

Each year, 100% of our Board of Trustees along with 100% of our Faculty and Staff are proud to be TRUE BLUE. We invite all families to join them by making a gift as early as possible. Our fiscal year runs from July 1 through June 30.
TRUE BLUE Fund Volunteers
We are also grateful for gifts of time! Volunteers are crucial to the success of the TRUE BLUE Fund, helping spread the word about the Annual Fund and encouraging their peers to participate. If you are interested in volunteering, please contact the Development Office.
​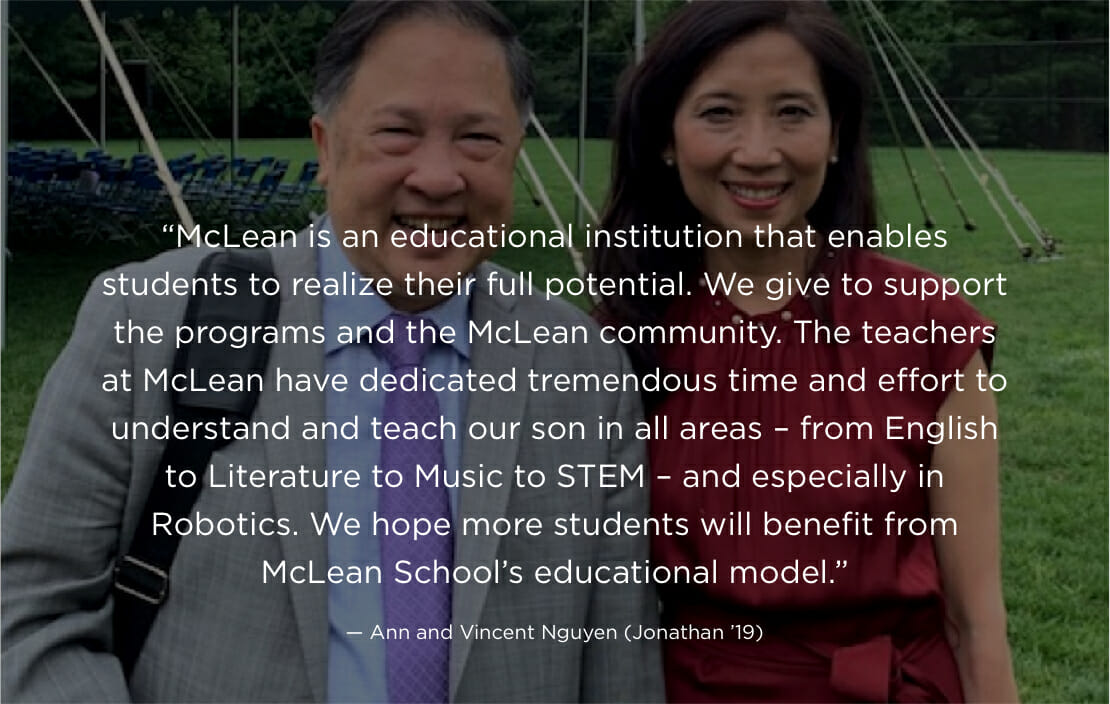 Who contributes to TRUE BLUE and why is 100% participation important?

McLean relies on Annual Fund support from parents, faculty, staff, alumni, alumni parents, grandparents, and friends. For the past five years, we have had 100% Faculty and Staff participation. However, parent support is also critical. When applying for outside grants, the participation rate among parents is an important criteria.
Why am I being asked to contribute to TRUE BLUE when I already pay tuition?

McLean provides transformative education to a diverse student body, while maintaining small class sizes and expert teachers. For these reasons, tuition is substantial. Nevertheless, for every student, there exists a $2,150 difference between tuition and fees and the actual cost of a McLean education. The TRUE BLUE Fund helps to cover that gap.
Is my gift tax deductible?

Yes! McLean School is a 501(c)3 non-profit organization. All gifts to the TRUE BLUE Fund are fully tax deductible to the extent allowed by law. Please contact your tax advisor for specific questions.
What is the difference between a gift and a pledge?

Many families will want to make an outright cash, check or securities donation as their gift. Others will prefer to make a pledge, which is a promise to make a specific gift at a later date. Pledges allow families the freedom to make an early commitment to the Annual Fund while maintaining the flexibility around when they make their specific cash gift before the close of the fiscal year, June 30.
Our family is a beneficiary of Financial Assistance, is it important for me give?

Yes! Participation matters, and we invite everyone to be counted. A strong parent participation rate not only shows support for the 100% of faculty and staff who give, but is also an important factor when applying for outside grants.
Should I give to the TRUE BLUE Annual Fund or the Auction?

TRUE BLUE Annual Fund and the Auction are important fundraising opportunities for McLean, and we encourage every family to participate in both if possible.  The Annual Fund supports our operational budget; the Auction has different focus each year. The Auction is a wonderful community celebration, and we hope you will support them both.
How Much Should I Give to TRUE BLUE?

The most important thing is that you participate at a level that is significant to your family and reflects your level of commitment to McLean. Gifts range from $25 to $25,000.
My company matches gifts. Can they match my gift to McLean School?

Matching Gifts are a great way to double or even triple the impact of your gift! Ask your employer about matching your gift to McLean School.  Please contact the Development Office at
240.395.2459
for further information.
Giving Circles
We strive for 100% participation and encourage everyone to give at a level that is right for them.
TRUE BLUE Giving Circles
Transformation Circle ($25,000+)
Visionary Circle ($10,000 – $24,999)
Head of School Circle ($5,000 – $9,999)
1954 Founder's Circle ($1,954 – $4,999)
Lochinver Lane Circle ($1,000 – $1,953)
Mustang Circle ($250-$999)
Blue & White Circle (up to $249)
Support McLean

Make a Gift Today