Welcoming
Barry L. Davis
New Head of School
Welcoming
Barry L. Davis
New Head of School
T

he 2024-2025 school year marks Head of School Barry L. Davis' first year at McLean School. Stay tuned for invitations and special events where members of our community can meet Barry and welcome him to McLean.
Letter from From Chair, Board of Trustees
April 24, 2023
As Chair of the McLean School Board of Trustees, I am excited, proud, and profoundly thankful to share that beginning July 1, 2024, Barry L. Davis will be McLean School's next permanent Head of School. The Head of School Search Committee unanimously recommended Barry to our Board of Trustees. With confidence in its careful process and a shared sense of enthusiasm, our Board, in turn, unanimously approved Barry's selection. Please join me in congratulating our Search Committee who worked so hard and so well for nine months, and our incredible school and community that showed so much engagement in the process. Together, we have worked toward this tremendous outcome.
It is equally and deeply meaningful to congratulate Barry. To have met Barry is to know the profound personal and professional connection he shares with McLean's mission, its students, and community. As Barry has shared with many of us, his life's work has led him to McLean and this role. We agree.
Read More

In announcing Barry's selection, I also want to continue the transparency that was a hallmark of the search itself. Below, I want to share the following critical background elements:
The selection criteria that framed our search process;
The defining qualities that distinguished Barry in our search;
Barry's background; and
The path ahead and some reflections on our journey to this successful outcome
Key Selection Criteria and Barry's Fit with McLean School
With our search consultants at Carney Sandoe, our Search Committee surveyed McLean's key constituents – including parents, faculty, and administrators – to develop a rigorous set of attributes that would guide our evaluation of Head candidates. A snapshot of those attributes is below. From interviews, reference checks, leadership-style profiles, and your feedback to our Search Committee, it became clear that Barry's background, talents, and approach to leadership are in vivid alignment with these criteria. Indeed, in many cases – and in particular, McLean's mission itself – Barry embodies these attributes:
A strategic growth mindset. Barry brings creativity and strategic thinking to a collaborative leadership model that not only advances school priorities, but does so in a way that prioritizes and strengthens culture, in-classroom excellence, healthy growth in enrollment, reputation, philanthropy, and facilities. He supports his teachers' professional growth and puts students at the center.
Authentic, experienced, steady leadership that harnesses the collective wisdom of his organization and community. Barry is an experienced Head of School and a strong and effective leader. He prizes relationships and is guided by respect for the shared humanity of others. Barry exudes these qualities and we saw its strong pull on the faculty, students, administrators, and families.
Connector and relational community builder. Barry's strength as a communicator begins with his emphasis on listening. He approaches – embraces – relationships with genuine interest, which is matched, in turn, by his intellectual curiosity, deep empathy, and a sheer joy for people – and students most especially.
A role model who elevates individuality, diversity, and inclusion. Barry will tell you that he learns differently and often felt "dumb" as a student in traditional schools. He learned the power of self-confidence and self-advocacy (and the power of his mother Doreen's tireless advocacy in schools that preferred traditional learners). He came to understand the beauty of being, as he first put it to us, "perfectly imperfect." The Abilities Model® is more than an educational philosophy for Barry – it's his philosophy in life. Barry's philosophy of celebrating individuality will extend to all aspects of our students and connects deeply to McLean's method and mission to celebrate diversity and inclusion. In one sense, Barry may be new to McLean; in ways that are most important, Barry is McLean.
Barry's Background
Barry's academic journey as a student growing up in Queens and Long Island, and then as an educator in locations ranging from Upstate New York to Dallas, Texas, began with athletics, as a place where someone who learned differently found his stride. He became a coach and through that, discovered his love and passion for teaching in roles as Head Basketball Coach and Athletics Assistant Director in the 80s and 90s, particularly at Eastern Connecticut State University and St. Lawrence University in New York. Shifting to the K-12 classroom in the early 2000s and then as Dean of Students and Middle School Head in several highly-regarded schools – Flint Hill, Brooklyn Friends, Greensboro Day – from 2008-2019, Barry honed his skills and approach for independent school operations and leadership. In 2019, Barry became Head of School for St. Anne's Episcopal School in Delaware, where he has reversed declining enrollment, built a stable financial foundation, strengthened the community and its philanthropy, and moved St. Anne's "from being the best kept secret in the community, to a sought after destination for families." Now, Barry sees McLean as the culmination of his career, where he hopes to be for a long time.
The Path Ahead
Barry will begin his Headship on July 1, 2024. This will enable Barry to finish his work at St. Anne's School, just as Mike is doing here, with a final year to prepare St. Anne's for his transition. This period will also allow Barry to get to know McLean better via periodic, focused visits. In the interim, and as noted previously, we are incredibly fortunate for the exceptional leadership of Interim Co-Heads, Jeff Berman and Melissa Gray-Hughes for the 2023-2024 school year. Melissa and Jeff will continue to lead McLean's growth on its strategic priorities, which you will hear more about, and have the opportunity to discuss with them directly, in the coming weeks and months.
Reflections on Our Journey
Finding the right Head of School for McLean, and a successor to a highly successful, pioneering ten-year Head in Michael Saxenian, is hard. And it takes a community – both to get it right and to inspire confidence that sets up our next Head for success.
It takes time and the right team. We started this process last July, selecting the Search Committee that would lead the process – starting with Eric Greenberg, our Search Committee Chair (who hired Mike and helped guide us to Jeff and Melissa). Eric, who is also an alumni parent and uncle of a current McLean grade eight student graciously accepted another tour of duty at McLean and has worked tirelessly since. In addition to drawing on his previous multi-term tenure as Board Chair, Eric brought a track record of excellence in hiring McLean leadership, a piercing intellect and clarity, a distinctive sense of humor, and a wonderfully warm and consensus-driven style of leadership. We want to thank Eric, for his uniquely capable leadership of the Search; he did so exceptionally.
Joining Eric and me, in my ex officio role as Board Chair, has been a wonderful cross-section of the "village" that is McLean:
Faculty members Bill Dunn and Terri Hamm (from Upper and Lower Schools respectively)
Administrators David Roth, Jenny Whichard '92 (also an alumna and former parent), and Bobby Edwards
Parents Kerrie Thomas Armstrong and Cynthia Cubbage
Alumni Parent David Gregory, and
Trustees Leah Larson-Rabin (and parent), Mary Wright (and alumni parent), and Dev Talvadkar

Former Trustee, Hurley Doddy
Our confidence in our search is rooted in the thoroughness of the Search Committee's work. In over 50 meetings over the last nine months, the Committee reviewed 16 candidates presented by Carney Sandoe (who sourced and interviewed many, many more), interviewed and evaluated 12 semi-finalists, and then 4 finalists. As much as the Committee's work was rigorous, it was marked equally by an esprit de corps among a diverse group who became trusted colleagues and then fast friends. While the members' dedication to McLean brought them to this work, we found in it genuine joy, frequent laughter, and deep meaning. But at every moment, it was the future of our School, the interests of our teachers and students, and the expression of the community's perspectives that grounded our work. On behalf of the entire McLean community, we say to our Search Committee: Thank you!
And you, the McLean Community, were essential to this process -– and to this selection. You shared your perspectives – from the attributes that guided our selection to the feedback that informed our decision. Thank you on behalf of the School, the Search Committee, and the Board of Trustees. We absolutely couldn't have done this without you.
Now is the time to honor and celebrate Michael Saxenian. In the coming weeks, we will celebrate Mike's incredible legacy. From the financial grounding he brought early in his tenure, to the expansion of our facilities; from his commitment to consensus to his vision for growth; and from his expression of McLean's Abilities Model® to his innovative expansion of our programming, we have much to acknowledge. But today is the moment when Mike's extraordinary legacy connects with McLean School's still boundless potential.
Today is a moment of both gratitude and excitement. This announcement is a celebration of all that has been accomplished and all that is still ahead. Connecting our past, present, and future is McLean's mission to serve our students, to support our administrators, faculty, and staff, and to create an inclusive McLean community. In the future leadership of Barry Davis, those values are assured, our community will find connection, and McLean's future will remain bright.
Barry has a warm and welcoming letter below my signature and I encourage you to read it.
Warmly,

Jim Cigliano
Chair, Board of Trustees
A Message from new Head of School for 2024-2025 Barry L. Davis
April 24, 2023
Dear McLean School Family,
As I sit at my desk, I can't help but daydream about all that is to come. Over the past few months, I didn't allow my dreams to go too far, for fear of somehow jinxing what I hoped might be my destiny. A dear friend once said, sometimes you just need to be still and silent in order for the universe to catch up and connect with you and truly be in sync. She said you have to allow yourself to be vulnerable, trusting, have an open heart, and be willing to believe in what you cannot see. I have been still and true to the voices of those who sustain me, and have been guided to the welcoming arms of the McLean School community.
From the handwritten notes from Eric Greenberg, the kind words from Jim Cigliano and Mary Wright, the warmth that I felt in my conversation with Mike Saxenian, the Board of Trustees, the Search Committee, Jeff Berman, Melissa Gray-Hughes, Robin Speller – the list goes on and on – how does one thank such a group in one short letter? I would be remiss if I didn't mention my Tuesday morning parent meeting. People shared stories about their journey to McLean, we laughed and shared challenges and opportunities, and I felt as though I was with friends I hadn't seen in a while. At every turn you made me feel very much at home, allowing me to be my authentic self, because you were being the same. I am so humbled by the gift of warmth you have all given me.
Read More

When asked, why McLean, I reflect on little Barry Davis, my seven-year-old self, and the struggles he had academically, never feeling like school was the place for him. I think of my two sons, Alex and Jordan, who each would have benefited greatly from the small class sizes and the Abilities Model®. I think of the pride and passion associated with the many achievements garnered in an environment where one is truly known, loved, and appreciated for who they are as an individual, and of never again hearing someone say you can't, but focusing on the many ways you can. McLean is inspirational, and most definitely transformational.
While I take a moment to reflect on what lies ahead for McLean with me as the Head of School, there are a few things that resonate in everything I do and the core of who I am. Listen with your heart. Listen to hear and understand as opposed to respond. People remember how you make them feel, not necessarily what you said. Be present, be honest, be transparent, and be compassionate.
One needs only to step on the campus to experience a culture that, like fertile soil, will allow everyone to grow. With the addition of the new Lower School campus, it will be more important than ever to focus on a "one-school approach." We will take time to look at all of the rally points that bring the school community together and be intentional about celebrating these traditions, as well as establishing new ones. Through regularly scheduled school-wide events, we can connect to what it means to be a Mustang. McLean is an amazing school, and I am excited about joining the team because I know that everyone can thrive here, all children and all families.
This message must first resonate within our buildings with students, families, faculty, staff, and administration. Our Strategic Plan will provide a roadmap to continued success in all programs, including academics, visual and performing arts, and athletics. As we look to increase enrollment, I feel strongly that you grow from the inside out. By connecting with current families and letting them know how much they are appreciated, it reminds us all of why we chose McLean. Our children and families are our best ambassadors as we look toward continued growth, remembering that community outreach begins in-house.
I look forward to working with our faculty and understand that ongoing Professional Development is critical to support the needs of our students, as well as looking at the future of education. As things get challenging, many will want to revert to pre-COVID norms as the default; however, as we have seen in many professions, the answer is not behind us. We must remember that the strength of our children comes from their joy, imagination, and the freedom to be their authentic selves. I see in McLean a community that celebrates difference and recognizes the individual in a space that draws its strength from the community, a place where we embrace the fact that we are all perfectly imperfect, striving to be our best selves.
Students, Parents, Faculty, Staff, Alumni, Alumni Parents, Grandparents, and Friends of McLean, I am so looking forward to partnering with you and appreciate your continued support. Because of all of you, McLean has been able to reach the highest heights. I am anxious to meet with you, to hear your McLean story, to know your hopes and dreams, and to find the places where our stories intersect. I know that together we can continue to raise the bar and build on the work of Michael Saxenian and those who believed in "The McLean Difference."
In her poem "Journey," Nikki Giovanni says,
"I am not afraid . . . of rough spots . . . or lonely times . . . don't fear . . . the success of this endeavor . . . I am in a space not to be discovered . . . but invented."
McLean Family, I am so humbled and excited to be joining you on this journey, and am proud to be a Mustang!
In Friendship,


Barry L. Davis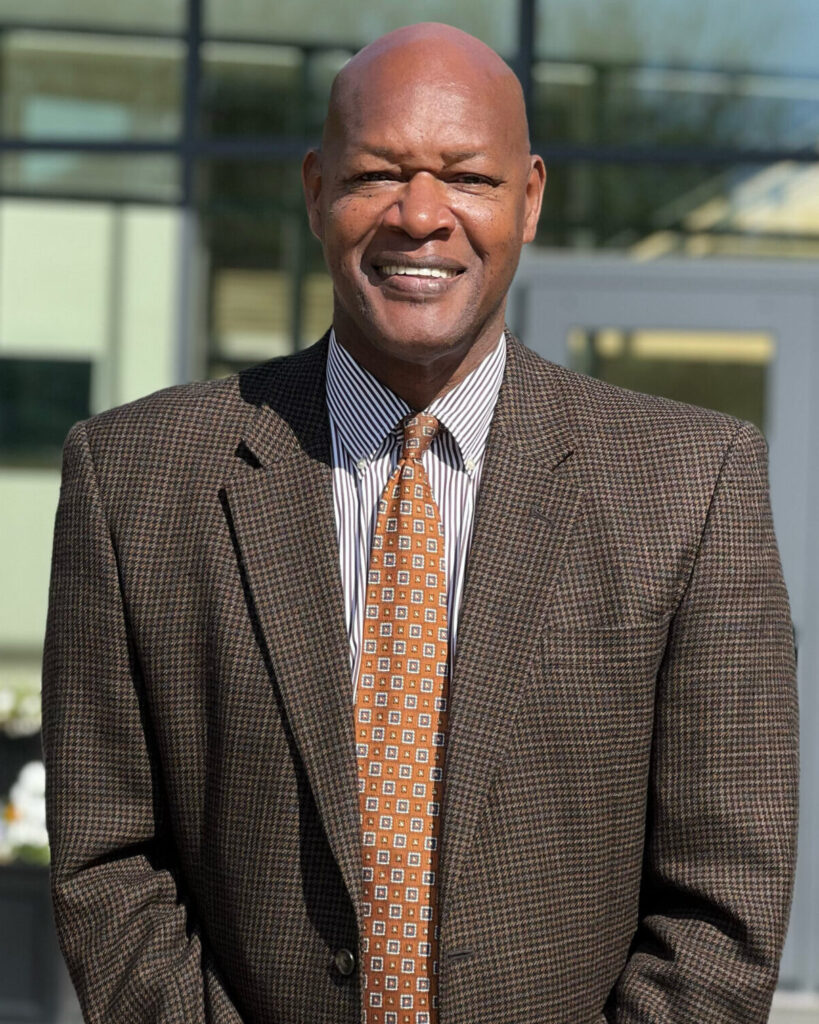 With over 40 years of experience as an educator, becoming the new Head of School is very fulfilling on a deeply personal level for Barry L. Davis. He describes himself as the student who had trouble in school and who wishes there had been a McLean School for him when he was a youth and needed it. He also has two sons with learning challenges, so can identify with McLean as both a student and a parent. It doesn't get much more personal than that.
Barry has come up through the ranks over time. He became a coach and through that, discovered his love and passion for teaching. Shifting to the classroom and then as a Middle School Head in several highly-regarded schools, Barry learned the ropes of successful independent school operations and leadership which led him to a position as a Head of School.
Read More

He is energized first by McLean's mission; but also by the prospect of chasing possibilities with the vigor and wisdom he has developed, and actually making great things happen.
Barry has a deep appreciation for the absolute necessity of bringing people together and his own experience has led him to always be, first and foremost, a connector, a bridge builder, and a community builder.
Career Highlights
Head of School, St. Anne's Episcopal School (Delaware)
Middle School Director, Greensboro Day School (North Carolina)
Middle School Director, Brooklyn Friends School (New York)
Middle School Head, Flint Hill School (Virginia)
Assistant Principal for Middle School, Metropolitan Learning Center, Inter District Magnet School for Global and International Studies and Technology (Connecticut)
Dean of Students, Worcester Academy (Massachusetts)
Athletic Director, Dallas Academy (Texas)
Education
MEd, Educational Leadership and School Administration and Supervision
MEd, Educational Counseling and Human Development
BS, Physical Education
I am driven to ensure that all children are seen, heard, loved, and inspired, free to take developmentally appropriate risks, and to learn and grow.
Barry L. Davis
With its commitment to growth, diversity, inclusivity, and meeting the individual where they are, McLean School resonates with me, and I believe this model will take the School into its next stage of its journey.
Barry L. Davis
I have always understood the importance of providing opportunities for children who have learning challenges, knowing that this should be the focus of all educators. In short, my philosophy says that we are all perfectly imperfect. What an amazingly wonderful way to be.
Barry L. Davis
As an educator, coach and counselor I have always watched for those children seen as the other, not good enough, or as less than. Believing that it is my responsibility to build relationships with all children and families, creating an environment that is safe for educational risk-taking.
Barry L. Davis
Head of School Search Updates
Letter from Head of School
August 22, 2022
I love my job. I love the joy and success of our students, the warmth and engagement of our parents, and the talent, dedication, and camaraderie of our faculty, staff, and trustees. Working together over the last decade, we have transformed not only the lives of our students, but also that of our School. This work has been rich and full of meaning.
But now, confident that McLean's foundation is stable and its future bright, I wanted to share with you my decision to retire from school headship at the end of this school year. This is the right time–for me and for McLean. I am ready to find my next calling, secure in the knowledge that this is an opportune moment for McLean to enrich its future with fresh leadership and vision.
Read More

The path has not always been easy for McLean. Although programmatically strong from the start, by the time I joined in 2013 we had lost one-third of our enrollment in the wake of the Great Recession, and the School's future was no longer assured. Since then, we have come together to achieve a set of ambitious goals set out by the Board of Trustees. Our beautiful, expanded building is full, our program is richer than ever, our philanthropic base is strong, and our teachers are delivering in still new ways on our core mission of a transformative education. Most of all, our students are thriving.
I am deeply grateful to the capable teachers, staff, administrators, and trustees who have been close partners throughout my tenure, and for the leadership of four talented Board Chairs: Eric Greenberg (Remy '14), who hired me, and partnered on course corrections during a precarious period, Stephen Anthony (Caroline '21) who steadied that course and oversaw our building expansion, Dr. Valaida Wise whose wisdom and commitment to good governance and inclusive community further fortified the Board, and now Jim Cigliano (Ben '23), whose passion and insight have been instrumental in our progress since he walked into my office six years ago, volunteering to be of service.
Our success has also depended on the partnership and support of so many parents, alumni, grandparents, and other friends of the School, including trustees without prior connection to McLean, who continue to offer their deep and diverse expertise because they believe in what we do.
This was a difficult decision for me personally. Still, I know the time is right. It has been an honor and a privilege–and the highlight of my career–to serve McLean, a school that discovers and models education as it should be, in all of its dimensions.
Meanwhile, we have a rich year before us as we wrap up our strategic planning initiative and the Board conducts a nationwide search for my successor. I am grateful to Eric Greenberg for agreeing to lead the Search Committee. Anticipating that my successor will join the school in July 2024, the Board has appointed my tremendously capable colleagues, Jeff Berman and Melissa Gray Hughes, to serve as Co-Interim Heads of School for the 2023-2024 school year. Melissa and Jeff's broad talent, their deep understanding of the school, our students and our mission, and their long tenure collaborating with me and with our trustees ensures that our course will continue as they serve as a bridge to McLean's next chapter.
With confidence in our future, love for our school and students, and tremendous gratitude for your friendship, faith, and support,
Michael Saxenian
Head of School
Letter from Chair, Board of Trustees
August 22, 2022
As you will have read in Mike's letter, he has told the Board of Trustees that this will be his last year as Head of School. With gratitude for his service, the Board has reluctantly accepted Mike's retirement after this coming school year.
Mike will leave McLean a stronger institution, a more diverse and vibrant community, and a school that continues to enrich its program even as it remains singularly focused on a mission to transform lives. Even this remarkable list understates what McLean has accomplished on Mike's watch:
Put our Students and our Teachers first, delivering the highest quality individualized instruction that is truly transformative for McLean's wonderfully talented students
Built exceptional leadership and faculty teams, and a culture of collaboration
Sustained McLean's small class sizes that enable individualized instruction
Defined, refined, communicated, and delivered the Abilities Model®
Developed nationally-recognized programming in mindfulness
Grew enrollment responsibly to full capacity
Fostered and strengthened McLean's very special culture of support and inclusivity
Established a culture of philanthropy and successfully completed McLean's first capital campaign
Shepherded the expansion and transformation of our campus so that its richness and architectural beauty mirrors our educational program
Proactively navigated the pandemic and implemented policies before and beyond most other schools to maintain its mission while keeping the community safe and healthy
Read More

These accomplishments make it hard to imagine McLean without Mike. But as our ongoing strategic planning reminds us, this rich community is bigger than the sum of its parts. Inspired by both what we have accomplished and by McLean's next chapter, our Board of Trustees has begun to look to the year ahead and beyond.
At the outset, I want to affirm and emphasize the seriousness and sense of stewardship that Mike and the Board bring to their responsibility for ensuring McLean provides the very best student experience every single day. Mike is fully engaged, and will remain so throughout this entire school year. It is going to be a great year, marked by McLean's foundational strength and continued momentum.
Looking ahead, let me describe our timing, our plans for Mike's transition, and for conducting a thorough, transparent, and far-reaching search.
First: In order to find the best candidates and provide ample time for a smooth transition, the Board has decided to target July 1, 2024 as the start date for the new Head of School. This timeline will ensure that our timing captures the availability of the very best candidates, taking into consideration their likely need to transition from current roles. This approach will put McLean at the leading edge of an often competitive process to engage the finest talent.
Second: In the 2023-2024 school year, between Mike's retirement on June 30, 2023, and the expected start of our new Head of School on July 1, 2024, the Board of Trustees has unanimously selected two of our Assistant Heads of School, Melissa Gray-Hughes and Jeff Berman, to together serve as Co-Interim Heads of School.
Melissa and Jeff have our total and complete confidence. They are trusted thought partners and advisors for Mike, crucial leaders of the school's operations, and important contributors to the school's growth and success. For years they have worked closely with our Board. McLean is fortunate to have two such strong, long-time leaders who are so deeply committed and connected to McLean's mission, and who are so well positioned to maintain its momentum.
Third: We will commence the search to find the very best leader for McLean. Given McLean's many unique strengths, we are confident that we will attract the best candidates. To do that we will:
Conduct a national and international search;
Work to ensure a broad diversity of candidates; and
Facilitate an inclusive process that ensures, from beginning to end, the critical input of the many and diverse members making up the McLean Community, including you, our families.
To accomplish these goals, the Board has formed an inclusive, diverse, and representative Search Committee with key representation from parents, faculty, alumni, administration, and the board. The members of the Search Committee, and further discussion of its role and our search process, will follow later this week.
The Search Committee will be led by Eric Greenberg, father of Remy Greenberg (Class of '14) and uncle of current McLean 8th Grader, Kat Greenberg. Eric chaired the Board of Trustees from 2012-2016, and is one of McLean's most loyal, long-running, and experienced volunteer leaders. He has an outstanding track record of helping McLean recruit some of its best leaders, including Mike, Melissa Gray-Hughes, Jeff Berman, and two prior board chairs Dr. Val Wise and Stephen Anthony. But Eric's real superpower is his ability to thoughtfully and authentically listen, connect, and bring the community together in a shared vision.
To assist, guide, and advise the Search Committee, we have engaged the leading executive search consulting firm for independent schools. The Board thoroughly reviewed and met with the top search firms in the K-12 independent school space, including meeting with each of the finalists in person, allowing for in-depth conversations that each lasted over two hours. From this evaluation, we unanimously selected Carney, Sandoe & Associates (CS&A), based on the strength of the firm in our areas of need: 1) conducting a thorough and organized search process; 2) generating–and helping us expertly evaluate–a robust and diverse pool of the best candidates; and 3) ensuring an inclusive process that brings together and draws upon the wisdom and diverse experiences of the McLean Community. Having now met with our two lead consultants from CS&A, Heather Flewelling and Skip Kotkins, extensively, and having consulted many references for each of them, we have tremendous confidence in their commitment, capabilities, and global reach. (You will find background information about Heather and Skip at the end of this note.)
As members of the McLean community, there will be multiple opportunities for you to engage in the search process and provide your input. Heather and Skip will be visiting McLean shortly after the opening-of-school activities settle down, to meet with as many members of the McLean Community as possible. For those unable to attend in person, there will be an online survey as well as a dedicated email address for communication related to the search. Please watch for information about when and where there will be community forums with the Search Consultants. Members of the school community will also later have another critical opportunity to be involved, by meeting finalist candidates and sharing their impressions with the Search Committee.
I and the Board would like to thank you in advance for your participation in this process. To ensure that our community can remain engaged, and that our process is transparent, we will be regularly communicating with you. If you wish to contact the Search Committee, you can do so at HeadOfSchoolSearch@mcleanschool.org.
This is a moment that is bitter-sweet. The remarkable extent of Mike's accomplishments is mirrored by our reluctance to see him retire. But this moment also marks the opportunity to build upon those accomplishments and move forward into yet another great chapter. Our next Head may be unknown, but our future is solid, our mission unchanged, and our Board's and Search Committee's commitment is unwavering. It is a commitment to all of you–and to all who will be joining McLean in the years ahead.
Sincerely yours,


Jim Cigliano
Chair, McLean School Board of Trustees
About our Search Consultants
Heather Flewelling, Chief Talent Officer at Carney Sandoe & Associates, will join Skip on the search team. For over 30 years, Heather has been a national leader in advancing issues related to diversity, equity, inclusion and belonging among schools and universities. In Heather's role as Chief Talent Officer, she works with CS&A to identify new pathways to increase the pools of traditionally underrepresented candidates and support schools and candidates to better reach their goals of diversifying their leadership. Her work builds equitable, inclusive, diverse, growth-oriented programs, schools, and communities with a particular expertise in navigating complex K-12 schools.
Skip Kotkins is entering his 10th year working with Carney Sandoe & Associates. He has led many dozens of Head of School Searches, and also assists schools in creating strategic plans, and in board development. He has had the pleasure of working on Head searches with a number of schools serving neurodiverse populations such as the McLean student body, and just completed a strategic plan for a similar school in New England. Skip is no stranger to McLean: he worked with Mike Saxenian when Mike and Skip were on the NAIS Board together, and he assisted McLean in the recent search that brought Chip Miller to our Upper School. Skip comes from the board side of schools and his understanding of the many non-academic school head responsibilities is a great pairing with Heather's career serving students in schools.
Members of the McLean Community can contact the Search Committee with any questions or recommendations at this email address: HeadOfSchoolSearch@mcleanschool.org.
As the search progresses, please refer to this page for updated
communications and information.