Michelle FitzGerald, Assistant Head of Lower School & Coordinator of Learning Services
Dysgraphia: When a student has a story to tell, but a hard time writing it.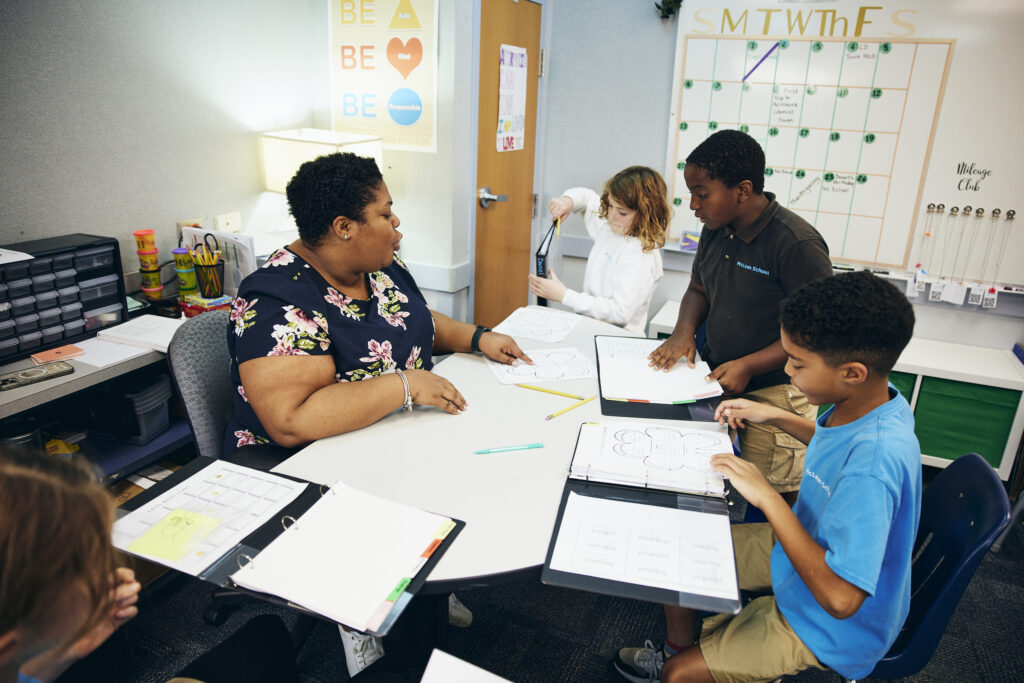 Everyone has a story to tell, but some of us struggle to write it. Unlike its cousin dyslexia, which primarily affects reading, dysgraphia affects written expression, including the mechanics of writing, like legibility, spelling, spacing, and sizing. This impacts learning in a variety of ways, and can present differently at different ages. 
A student with dysgraphia may have difficulty converting the sounds of language into written form (phonemes into graphemes, technically speaking), or knowing which alternate spelling to use for each sound. They may write their letters in reverse or have trouble recalling how letters are formed or when to use upper or lower case. A student with dysgraphia may also struggle with using correct grammar and punctuation, ordering words or omitting them altogether, and proper word endings. It comes as no surprise, therefore, that people with dysgraphia speak more easily and fluently than they write. And true to our Abilities Model®, we recognize and celebrate this strength of verbal expression while helping in areas of struggle.
At McLean School, we don't just provide writing support to children with a diagnosis of dysgraphia. Whatever the challenge or need, we are prepared to meet it, whether it's fine motor related, spelling, or idea generation; often, it's a combination. Here are some of our key beliefs and strategies when it comes to supporting students with what is also called a "specific learning disorder in writing":
Handwriting is taught separately from written expression in all of the lower grades (K-4). This is different from other schools that don't provide explicit instruction on the actual physical act of writing. With the guidance of the curriculum, Learning Without Tears, teachers in kindergarten through grade 2 focus on the correct formation of upper and lower case letters in print. Grades 3 and 4 then move onto the introduction and review of cursive, which helps support concerns with reversals and encourages fluidity of letter formation.  
It's important to simplify and slow down the process. From the beginning, we break things down into parts when it comes to written expression, starting with simple sentence structure, advancing to multi-paragraph essays and, later, advanced research papers. This explicit instruction benefits all students, not just struggling writers. Teachers understand that Executive Functioning challenges often overlap with the organization of written expression and, by using strategies developed by Sarah Ward, teachers are able to break multi-step assignments into smaller concrete steps that students can find success in.
Curriculum matters. McLean is moving to The Writing Revolution, a curriculum rooted in content creation based on current learning since, for students who struggle with writing, idea generation is easier when you have an entry point. So it's less "what do you want to be when you grow up" type prompts and more "let's read this book and write about that." It takes the pressure off the ideas and puts it on the output as students get increasingly comfortable with written expression.
Spelling is not writing and should never get in the way of the process. At McLean we prioritize time during our Orton Gillingham focused reading classes to intentionally teach the process of encoding (spelling) in isolation. This allows us to then separate the focus on spelling from the process of written output. We tell our students to circle a word if they don't think it's spelled correctly, and we welcome phonetic spelling for the sake of getting ideas out. Our goal is for students not to get stuck on spelling at the expense of the rest of the piece. Correcting mistakes is part of the editing and revising process, which comes later.
Screening is key. McLean provides an Occupational Therapy (OT) screening of all new Lower School students. Based on the results of that screening, families are welcome to utilize one of McLean's fee-based OT providers to receive additional support during the day. 
Invest in expertise. We have two full time Speech-Language Pathologists (SLPs) and two full-time Occupational Therapists (OTs) providing support with one-on-one services as well as consulting regularly with Lower and Middle School teachers to best support the students in those classrooms.
Typing helps students keep up with their thoughts. Keyboarding instruction begins in grade 3, or earlier if the child is receiving  OT services. Students with dysgraphia and other writing struggles are often limited by the fact that their handwriting can't keep up with their ideas, so when they learn to type, they find it is faster and more efficient (don't we all?).  
Assistive technology and related resources are a wonderful thing. We offer speech-to-text, graphic organizers, and scribes during designated written language periods to facilitate expression of ideas, note-taking support, and assistive technology to all of our students.    
Teachers are trusted partners in the process. At McLean, it's no secret that teachers go above and beyond to do whatever they can for their students and build trusting relationships that pave the way for learning. When it comes to writing, they monitor their students' process and progress through regular check-ins, talking through ideas prior to assignments, and are ready to offer support every step of the way.
Parents and caregivers often ask: how can we help? You can leave the explicit instruction to us, but there are definitely some ways to reinforce the pieces that can make the writing process a little easier. We recommend encouraging your child to build fine motor skills and dexterity through games like Operation, or making friendship bracelets, coloring, Play Doh, and other (non-academic!) activities. In addition, there are lots of fun typing games and programs out there, and the more practice, the better. Talking through ideas in sequence whenever possible also goes a long way in building the executive functioning that transitions to writing, such as "first we did this . . .  then this . . . and at the end of the day this."  
Like I said, everyone has a story to tell. At McLean, we're committed to helping all of our students write theirs with confidence.
–By Michelle FitzGerald, Assistant Head of Lower School & Coordinator of Learning Services