Michael Saxenian, Head of School
The Power of Relationships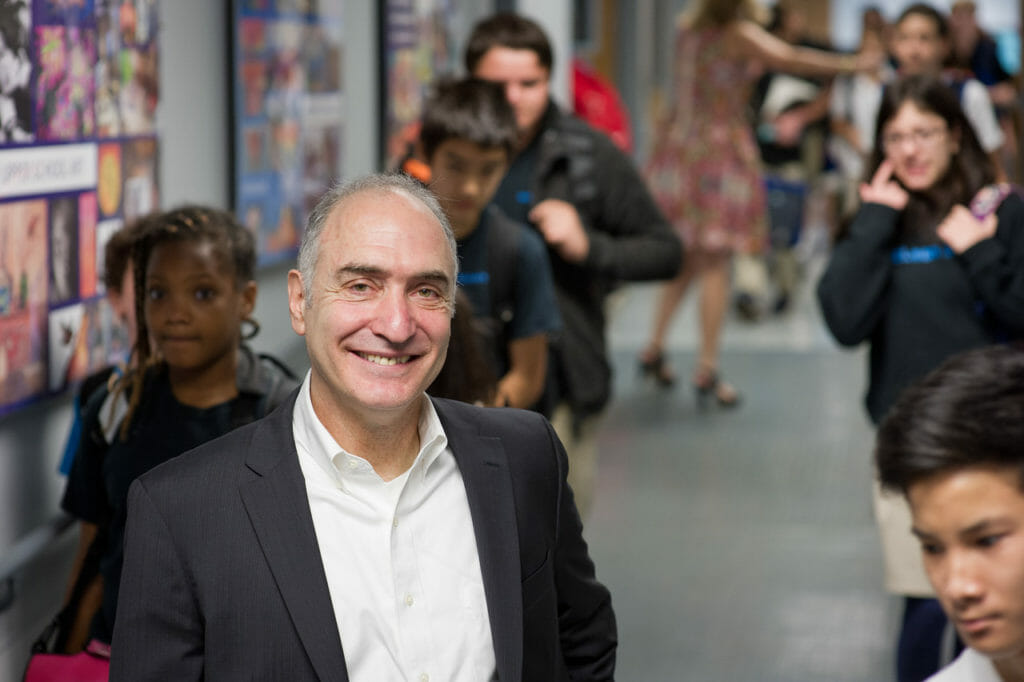 Key factors for school success include academic preparation, self-awareness, self-advocacy, positive peer connections, and a supportive family. The thing that ties all of these together–perhaps the most important and yet also the least quantifiable–is relationships that develop out of an environment in which teachers and their students share trust, information, experiences, and goals.
Building Connections in the Classroom & Community
At McLean, we prioritize getting to know not only a student's learning strengths and challenges, and where they are in terms of knowledge and abilities, but also who they are as individuals. What makes them tick. We believe, and our research underscores, that positive relationships are the key that unlocks learning potential and possibility. It's this combination of being supported and being seen–really seen–that's as much a part of our program as math and reading, service learning, and art.
It starts with creating an environment where students feel safe asking questions and being their authentic selves, free from judgment and fear of failure. This is critical to, not separate from, academic success. Our small classes help foster a culture of respect between teachers and their students and among peers, and we know from experience that children want to do and be their best for those they respect. This creates a cherished, trusted space for difficult and deep conversations, whether about social justice issues, world events, or everyday concerns, and allows for an intimacy that's hard to come by in larger settings. At McLean, this culture of listening and respect includes the administrative level, where all decision-making is consensus-based and we truly care about each other's thoughts, feelings, and perspectives. We're living our values in every corner of the building, from the classroom to the conference room.
Community engagement is another important way of building connections and relationships; taking part in clubs, activities, and events is grounding and helps to build a sense of purpose and belonging. Our teachers are invested, involved, and lead by example. All of this is self-reinforcing, because when students see others–peers and adults alike–modeling vulnerability, participation, compassion, healthy risk-taking, and more, they are inclined to do the same. This is further strengthened by our mindfulness program, which fortifies a student's sense of well-being and fosters the growth mindset that is fundamental to learning.
Relationships like the ones you'll find at McLean are about more than just creating quality environments for today; they're also good predictors of positive future outcomes. This includes college persistence–not just getting into a school, but also the ability to stay there, flourish, and graduate. At McLean, nearly 100 percent of students with a B average and above finish a four-year college program, compared to just one-third of such students nationwide; research points to the sense of security from feeling connected as the primary driver here. Because they've had a lot of modeling, practice, and positive reinforcement, McLean students heading off to college have the skills and confidence they will need to foster positive relationships with peers and professors, advocate for themselves as needed, and thrive.
Strong Relationships Support Positive Outcomes
Strong, positive relationships can bring out the best in students and each other–and at the same time, offer a framework for understanding when a student is struggling and finding the right support. Because when the going gets tough–whether that's on a personal level or with the world at large, like we've experienced this past year–you want to know your school is a safe place to find support and work through it. At McLean, relationships are fundamental to our Core Values, which we take very seriously. They are more than words on a page. They are well-integrated into each day and every experience, literally part of the atmosphere. I hear it from families all the time, that when they walk through our doors they feel a strong sense of connection–and I know what they mean because I feel it, too.